The top 3 leadership attributes CFOs need to navigate a global crisis & the biggest dilemmas their businesses face.
COVID-19 has sent companies into full crisis mode as they grapple with the pandemic's effects on their employees and their business. Through this time of uncertainty, c-level executives flex their leadership muscles to put their company on a path towards recovery. Chief Financial Officers have one of the highest pressure roles to play. As they deal with the company's financial health day-to-day, the sustainable operation of the business to continue once conditions improve is their responsibility.
At the start of June 2020, we surveyed 50 Japanese CFOs and financial leaders from a range of industries to learn about their experiences with COVID-19. We asked them about the dilemmas they're facing, and the top leadership attributes helping them navigate their companies through this global crisis.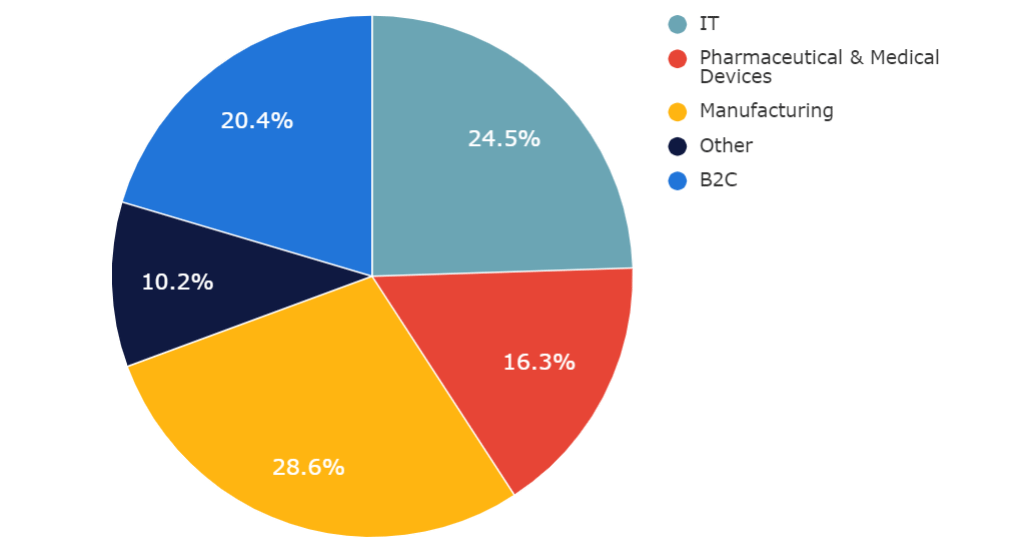 Of our profile of respondents, 30% were Nikkei companies. Industries represented in the survey include IT, manufacturing, pharmaceutical & devices, B2C, among others.
From a CFOs perspective, what is the biggest dilemma?
Every company will face its own challenges due to the pandemic, but when we asked participants this open-ended question, two broad trends emerged. The first, related to 52% of answers, is financial strategy. This includes cash flow, changes in demand, choices about cost savings, and short-term financial actions that might have negative long-term impacts on the business.
The second trend that emerged, related to 29% of answers, is the transition to working from home. This includes investment in work from home support, balancing staff safety with business continuity, and adopting new practices that don't fit in with traditional Japanese business.
What does the financial impact on Japanese businesses look like?
As of June 12th,TEIKOKU DATABANK, Ltd. recorded 245 coronavirus-related bankruptcies of businesses in Japan. Of the CFOs we surveyed, the majority reported COVID-19 having a less than 20% impact on their business compared to actuals last year. Less than 5% of CFOs we interviewed reported a greater than 60% impact.
We found industries like IT and pharmaceutical & devices saw less of an impact where industries like advertising, aviation, and consulting saw a more substantial impact.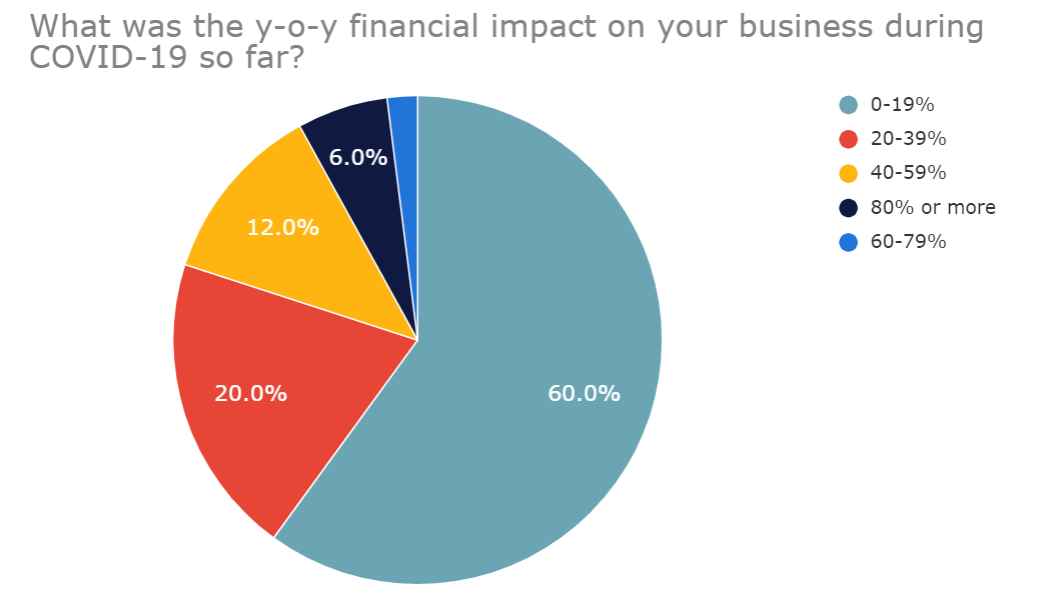 As a CFO, how has decision making changed?
COVID-19 forced businesses to shift priorities. When asked to rate their decision-making focus on a scale of 1-5 (5 being very short term focussed), 64% of respondents selected 3 and 4. For most CFOs, priorities have shifted, but they have not lost sight of their business long-term.
20% of CFOs on-the-other-hand did shift their focus to very short-term actions and goals during COVID-19. Most of the companies that made this shift also had a large financial impact on their business due to the pandemic.
Information on both shifts shows how pivotal the CFOs' financial strategy is for the business's continuity.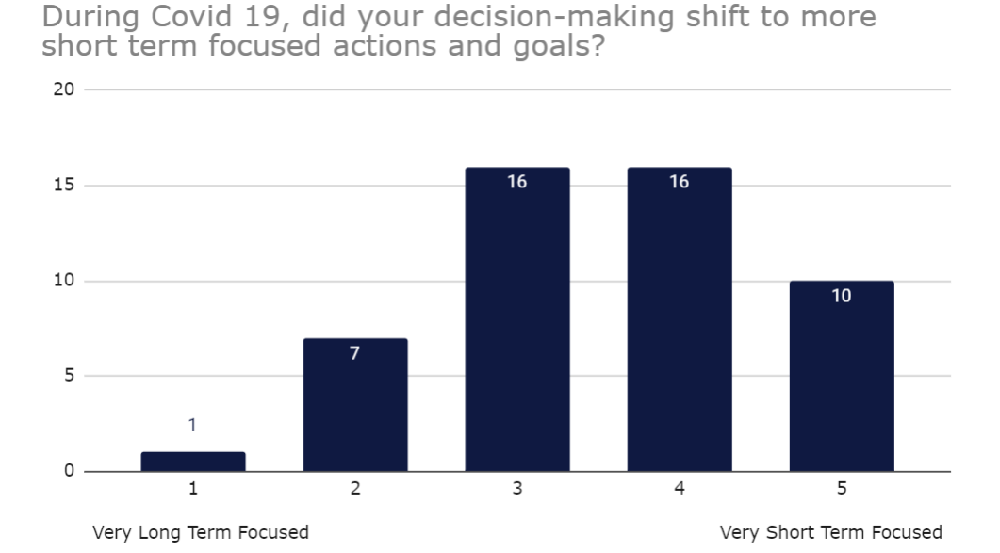 Top leadership attributes to be a successful CFO during a crisis.
CFOs are always making tough decisions to lead their businesses, whether they've sustained a significant financial impact or not. One of the CFOs we surveyed, who works for an industry-leading company, believes the top leadership attributes a CFO can hold are:
strong conviction to do the right thing consistently for the long-term success of the business and organization,

turn challenges into pivotal moments to change status quo internally and externally, and

strategic and financial guidance to business teams and broad organization to build resiliency and agility against uncertainty.
According to him, looking ahead, willing to change, and agility during uncertainty are all key.
We asked our CFOs the same question, what are the top three competencies required to get through a crisis like COVID-19? The responses were not too different from that of our CFO above. The most common keywords to the open-ended question included resilience, change management towards digitalization, deep or insightful cost-saving initiatives, cash management, flexibility, and communication.
We've categorized the most common keywords into six categories. The top three categories are:
Decision Making – the ability to handle the unknown and the skill to make a tough decision.
Finance and Analysis skills – The ability to provide cost-saving initiatives and see opportunities for growth.
Communication – Showing vision to your company and maintaining customer relationships.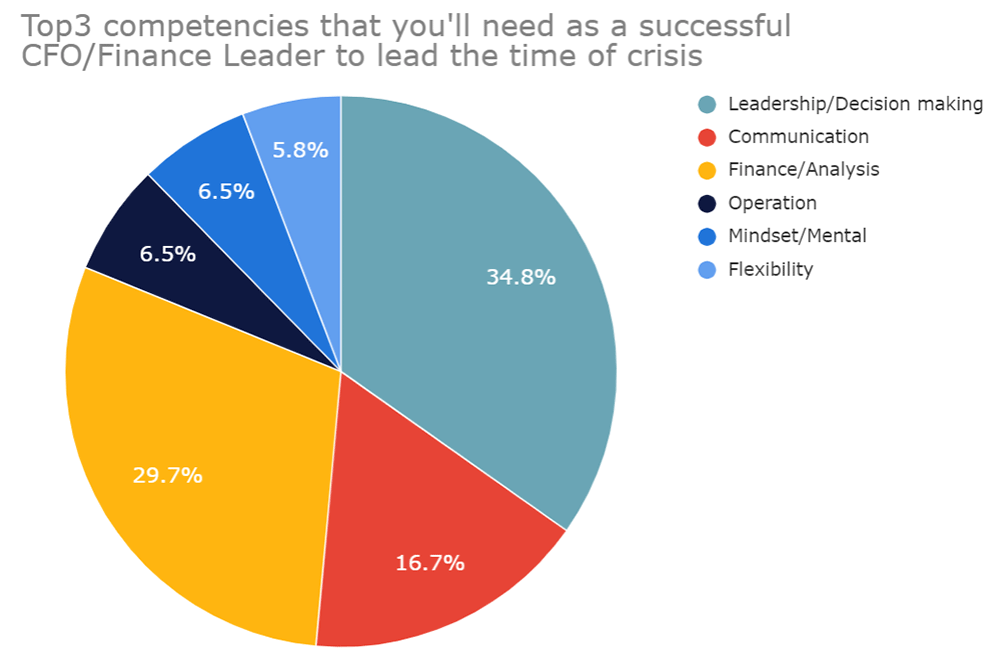 The pressure is always on the CFO to be a great leader in their business. But after a crisis, such as COVID-19, their demands are heightened during a period of uncertainty. The CFO must make quick decisions. As a compass of management, they must always think about what is right for the organization and guide the business to cost savings and opportunities. And finally, they must be a vision for their team, supporting new initiatives like digitization and instilling confidence during crisis recovery.
---
Keisuke Okuda
Team manager
Finance&Accounting
Randstad Professionals